A sus 4 guitar chords
A - D - E
Chord Theory
Asus4 chords consist of the 1st, 4th and 5 notes of the diatonic root scale of A Major. The 3rd is omitted giving the chord an openness and in most cases, a need for resolution - generally back to the A chord.
A Major Scale: A - B - C# - D - E - F# - G#
Chord: A suspended fourth - Asus4 (Asus)
Formula: 1 - 4 - 5
Notes: A - D - E
Asus4 Chords - RH/LH

Spelling: 1st(A), 4th (D), 5th(E)

1st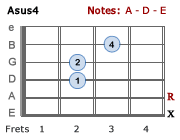 Written: x02230
Notes: x-A-E-A-D-E
Open chord shape: Asus4
 TAB     e |-0-|
         B |-3-|
         G |-2-|
         D |-2-|
         A |-0-|
         E |---|
2nd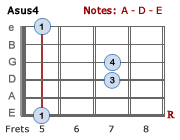 Written: 557755
Notes: A-D-A-D-E-A
Open chord shape:
 TAB     e |-5-|
         B |-5-|
         G |-7-|
         D |-7-|
         A |-5-|
         E |-5-|
3rd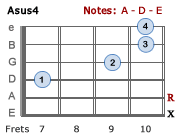 Written: x079-10-10
Notes: x-A-A-E-A-D
Open chord shape:
 TAB     e |-10-|
         B |-10-|
         G |-9--|
         D |-7--|
         A |-0--|
         E |----|
Notes
In the 3rd position, the chord is written x079-10-10. We separate any fret greater than 9 with a hyphen so as not to create confusion with double-digits, otherwise the chord above would be written x0791010... too confusing.
sus4 chords are often used in all types of music. Whenever you play a major chord you always tend to add a sus4 and then back to the major chord, e.g., A - Asus4 - A, or D - Dsus4 - D etc. This tends to happen naturally when playing certain chords. The major chord to the sus4 creates a bit of tension, with a return to the major for resolution... works well.
sus4 chords can also be written as sus chords. We use sus4 as there is no confusion with sus2 chords.
Standard keys using the A sus 4 chord: A Major, D Major, F#m, and Bm. Each of the minor keys is the relative minor of the major keys, i.e., A/F#m, D/Bm. If you are playing songs in any of these keys, you may come across an Asus4 chord... generally played next to the A major or A7 chord.
Practice: If you want to practice playing a song with Asus4 chords, you may like to try any of the following: