Moon River chords & lyrics
by Andy Williams
Moon River was written by Henri Mancini (music) and Johnny Mercer (lyrics).
It was first performed by Audrey Hepburn in the 1961 movie - Breakfast at Tiffany's.
Andy Williams recorded the song in 1961 and the song featured on his album Moon River and Other Great Movie Themes which was released in 1962.
Music: Key of C Major in 3/4 time at ~ 94 bpm (♩)

Chords:

C, C7, Am, Am6, Am7, Bb7b5, F, F7, Dm, Dm6, Dm7, E7, Em, Em7, B7, G7
Moon River by Andy Williams
Capo on 1st fret if playing with video



Intro:

 

4/4 

      
       |   C   |   C   | 
  
    C   Am        F             C 
1. Moon Riv-er__ Wid-er than a mile;
         F                C        Dm6  |  E7  |
   I'm cross-in' you in style some day
        Am   C7             F    Bb7-5
   Old dream mak-er__ You heart break-er
        Am     Am7   Am6  B7        Em7  A7     | Dm7  /  G7  |
   Wher-ev-er you're go - in'__ I'm go - in' your way

    C   Am          F               C 
2. Two drift-ers__ Off to see the world
            F              C      Dm6  |  E7  |
   There's such a lot of world to see
        Am   Am7    Am6   F7         C   F                     C
   We're aft-er the same rain-bow's end__ Wait-in' 'round the bend
 F                     C       Am  Dm     G7    C   |  C  |
   My Huck-le-ber-ry friend__ Moon Riv-er__ And me...

    C   Am        F             C 
3. Moon Riv-er__ Wid-er than a mile;
         F                C        Dm6  |  E7  |
   I'm cross-in' you in style some day
        Am   C7             F    Bb7-5
   Old dream mak-er__ You heart break-er
        Am     Am7   Am6  B7        Em7  A7     | Dm7  /  G7  |
   Wher-ev-er you're go - in'__ I'm go - in' your way

    C   Am          F               C 
4. Two drift-ers__ Off to see the world
            F              C      Dm6  |  E7  |
   There's such a lot of world to see
        Am   Am7    Am6   F7         C   F                     C
   We're aft-er the same rain-bow's end__ Wait-in' 'round the bend
  F                    C       Am  Dm     G7      | F  Em  Dm7  |  C  |
   My Huck-le-ber-ry friend__ Moon Riv-er__ And...  me...




Andy Williams ending:

 
                      Am  Dm     G7    |  C         Am  |  C    Am  |  C  |
                     Moon Ri-ver__ And... me (Moon River)(Moon River)

---
🗝️ C Major
Numbered Circles: Chord fingering - number inside circle indicates which finger to use
White Numbered Circles: Optional Notes
Unmarked strings: Play open
X: Don't play string
Barre Line: One finger holds down multiple strings
R: Root Note
Right Handed Charts: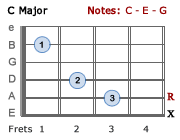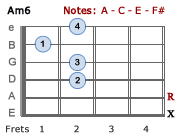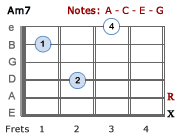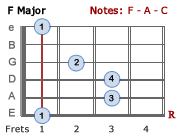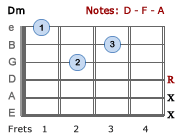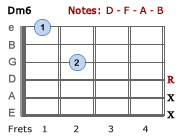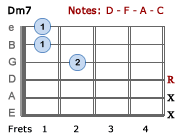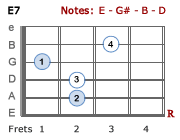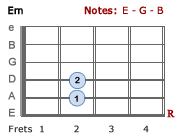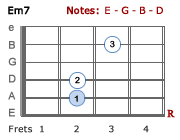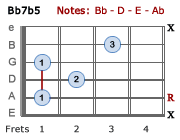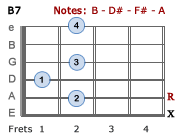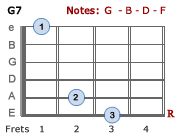 Left Handed Charts: