A Time For Us chords & lyrics
by Andy Williams
A Time For Us was originally a music score composed by Nino Rota in 1968 for the Franco Zeffirelli film, Romeo and Juliet.
Henri Mancini's released an instrumental arrangement of the piece in May, 1969 titled, Love Theme from Romeo and Juliet from the album - A Warm Shade Of Ivory.
Lyrics were added to the song by Larry Kusik & Eddie Snyder along with the new song title. This version by Andy can be found on several of his albums including - Moon River: The Very Best Of Andy Williams.
Music: Key of Am in 3/4 time at ~80 bpm.
Chords: Am, Bb, C, Dm, Em, F, G
A Time For Us by Andy Williams



Intro:

 

3/4

 || Am  F  C  |  %  |  Am  F  G  |  Am  |  %  ||
                                                (A time for) 
              Em                    F
1. A time for us, some-day there'll be  
                    Em      C        Dm
   When chains are torn by cour-age born 
                     Am
   Of a love that's free
                 Em                F
   A time when dreams, so long de-nied
        Dm     Em 
   Can flour - ish 
      Am                         Em    Am
   As we un-veil the love we now must hide

           C       G      Dm     Am


Chorus:

 A time for us at last to see
           Bb          F       Em      Am
        A life worth-while for you and me

                 Em                       F
2. And with our love, through tears and thorns
               Em     C
   We will en-dure as we pass 
    Dm                     Am
   Sure-ly through ev'-ry storm
              Em                    F
   A time for us, some-day there'll be
      Dm    Em 
   A  new  world 
      Am                        Em      Am
   A world of shin-ing hope for you and me

           C       G      Dm     Am


Chorus:

 A time for us at last to see
           Bb          F       Em      Am
        A life worth-while for you and me

                 Em                       F
3. And with our love, through tears and thorns
               Em     C
   We will en-dure as we pass 
    Dm                     Am
   Sure-ly through ev'-ry storm
              Em                    F
   A time for us, some-day there'll be
      Dm    Em 
   A  new  world 
      Am                        Em      Am
   A world of shin-ing hope for you and me

   |  Em  |  Am  |

---
🗝️ A Minor
Numbered Circles: Chord fingering - number inside circle indicates which finger to use
White Numbered Circles: Optional Notes
Unmarked strings: Play open
X: Don't play string
Barre Line: One finger holds down multiple strings
R: Root Note
Right Handed Charts: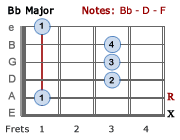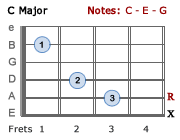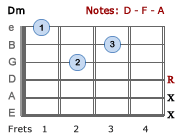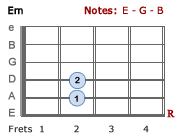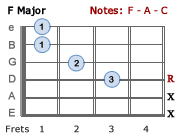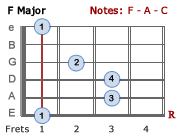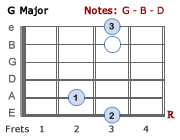 Left Handed Charts: