In My Life chords and lyrics
by The Beatles
In My Life was written by John Lennon & Paul McCartney.
Recorded: EMI Studios, London on Oct 18th, 1965.
Released: Dec 3rd, 1965.
Album: Rubber Soul
Music: Key of A Major in 4/4 time at 102 bpm (♩)

Chords:

A, A7, E, E7, F#m, D, Dm, G, B7
In My Life by The Beatles



Intro:

 

4/4


     (Riff)                   (Riff)      
   |     A     |     E     |     A     |     E     |

              A           F#m    -   A7
1. There are pla-ces I re-mem-ber___ 
           D    -    Dm         A
   All my life____      Though some have changed
            A             F#m    -    A7
   Some for-e-ver not for bet-ter
              D   -   Dm      A
   Some have gone____    And some re-main
             F#m                D
** All these pla-ces had their mom-ents
         G                      A
   With lov-ers and friends I still can re-call
            F#m               B7
   Some are dead and some are liv-ing
       D  - Dm            A 
   In  my  life___ I've loved them all

      (Riff)    
   |     A     |     E     | 

           A                    F#m    -    A7
2. But of all these friends and lov-ers
              D  - Dm           A
   There  is  no - one___ Com-pares with you
              A                   F#m    -    A7
   And these mem-'ries lose their mean-ing
            D   -   Dm      A
   When I think of love as some-thing new
            F#m                       D
** Though I know I'll ne-ver lose af-fec-tion
        G                       A
   For peop-le and things that went be-fore 
     F#m                                B7
   I know I'll of-ten stop and think a-bout them
       D  - Dm           A
   In  my  life___ I'll love you more



Instr:

 | A  | F#m  – A7  | D  – Dm  | A  | A  | F#m  – A7  | D  – Dm  | A  | 

             F#m                      D
** Though I know I'll ne-ver lose af-fec-tion
        G                       A
   For peop-le and things that went be-fore 
     F#m                                B7
   I know I'll of-ten stop and think a-bout them
       D  - Dm           A
   In  my  life___ I'll love you more

      (Riff)
   |    A     |     E     |
                        In  my___ life___ I'll love you (more)
    (End Riff)                  𝄐
   |    A     | E  -  E7  |     A     |
       more




Tabs:

 
 * Each row represents a string from Top e - highest sounding
   to bottom E - lowest sounding
 * Each number represents the fret which the note is played on
 * retain the order of notes played from left to right

Riff: e|---5-------4-|
      B|-2---2-3-5---|
      G|-------------|
      D|-------------|
      A|-------------|
      E|-------------|

End   e|---5-------4--4--2--4-5----|
Riff: B|-2---2-3-5-----------------|
      G|---------------------------|
      D|---------------------------|
      A|---------------------------|
      E|---------------------------|        

---
🗝️ A Major
Numbered Circles: Chord fingering - number inside circle indicates which finger to use
Unmarked strings: Play open
X: Don't play string
Barre Line: One finger holds down multiple strings
R: Root Note
Right Handed Charts: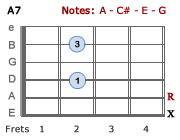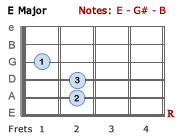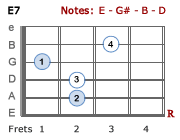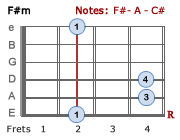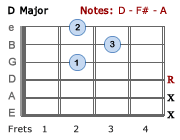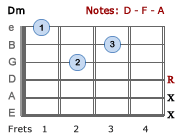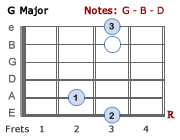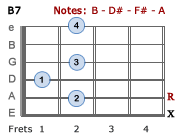 Left Handed Charts: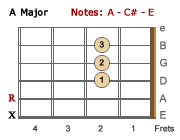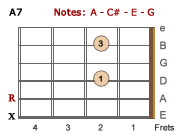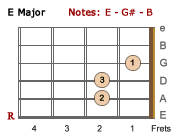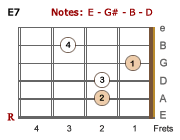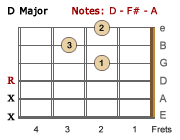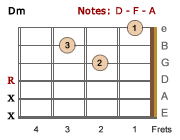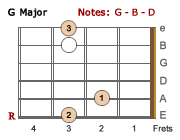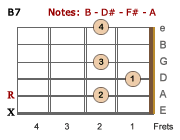 Notes:
Level Of Ease: Fairly... need to know some barre chords
Song Key: A Major (3 Sharps - F# C# G#)
The introduction consists of a Riff which is written in Tab on the song sheet. It is played on the first 2 strings of the guitar (E & B string), between the 2nd and 5th frets.

Notice there is a Riff and an End Riff. The Riff is played twice during the Intro, and once everywhere else. Each Riff is 2 bars in length, with the End Riff 3 bars in length.
If you can't read Tab, don't worry - you can just play an A chord for 1 bar followed by an E chord for 1 bar. It is very easy though... listen carefully and copy.

There are several other positions that you can play it, but that position is the same as the Tab, and probably the easiest.
Wherever you see a hyphen between 2 chords, that means 2 beats for each chord, e.g., D - Dm means 2 beats on D and 2 beats on Dm. The same applies to F#m - A7, and E - E7.