All My Loving chords & lyrics
by The Beatles
All My Loving was written by Paul McCartney and credited to Lennon/McCartney.
Recorded: 30th July, 1963
Released: 22nd Nov, 1963
Album: With The Beatles
Music: Key of E Major in 4/4 time at 156 bpm (♩)

Chords:

E, F#m, B7, D, C#m, G#7
All My Loving by The Beatles



Intro:

  

4/4



              F#m            B7              E           C#m 
1. Close your eyes and I'll kiss you____ To-mor-row I'll miss you
       A           F#m         D    |   B7    |                   
   Re-mem-ber I'll al-ways be true  
             F#m        B7                 E          C#m 
   And then while I'm a-way___ I'll write home ev-'ry day
             A          B7          E  |   E   |            
   And I'll send all my lo-ving to you     𝄑

             F#m          B7               E        C#m 
2. I'll pre-tend that I'm kis-sing___ The lips I am miss-ing
        A            F#m              D    |   B7   |   
   And hope that my dreams will come true
             F#m        B7                 E          C#m 
   And then while I'm a-way___ I'll write home ev-'ry day
             A          B7          E    |   E   |        
   And I'll send all my lov-ing to you       𝄑

               C#m       G#7               E   |   E   |                       


Chorus:

 All my lov-ing___ I will  send to you       
               C#m        G#7               E    |   E   |     
        All my lov-ing___ Darl-in' I'll be true      𝄑
                                                                     𝄐


Instr:

 |   A   |   A   |   E   |   E   |   B7   |   B7   |   E   |   E   | 
                                                                     (Close your)

              F#m            B7              E           C#m 
3. Close your eyes and I'll kiss you____ To-mor-row I'll miss you
       A           F#m         D    |   B7    |                    
   Re-mem-ber I'll al-ways be true  
             F#m        B7                 E          C#m 
   And then while I'm a-way___ I'll write home ev-'ry day
             A          B7          E  |   E    |            
   And I'll send all my lo-ving to you     𝄑

               C#m       G#7               E     |   E   |                      


Chorus:

 All my lov-ing___ I will  send to you
               C#m        G#7               E    |   E   |     
        All my lov-ing___ Darl-in' I'll be true
               C#m             E        |     E     |   
        All my lov-in'____ All my lov-in'___ (Oo  oo)      
               C#m                        E          |      E      |             
        All my lov-in'___ I will send to you                𝄑
    
---
🗝️ E Major
Numbered Circles: Chord fingering - number inside circle indicates which finger to use
Unmarked strings: Play open
X: Don't play string
Barre Line: One finger holds down multiple strings
R: Root Note
Right Handed Charts: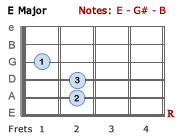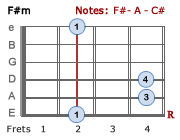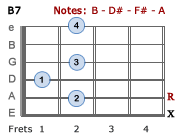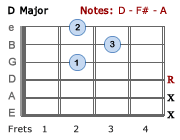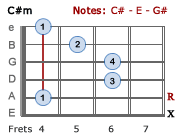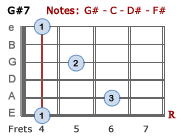 Left Handed Charts: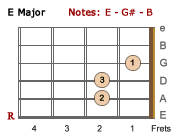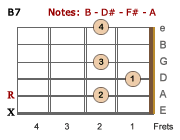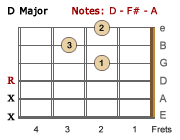 Notes:
Level Of Ease: Fairly Easy - you will need to know some barre chords - F#m, C#m and G#7, which are some of the easiest to play.
Song Key: E Major - 4 sharps F#, C#, G#, D#
A bar with the fermata symbol 𝄐 OR 𝄑 in this song, means you strum the chord once, and stop for the duration of the bar, then start playing again in the next bar. This happens often in this song.
The guitar chords page will be useful if you want to play any of these chords in a variety of positions. Note that George strums the C#m and E chords at the end of the song in higher positions up the neck. You may want to give this a try.
---
You will notice John Lennon strums using triplet timing for each beat.
Please Explain: | 1 2 3 4 |... 4 beats per bar
Firstly we divide each bar into eighth-note/quaver beats (8 beats per bar) so the bar count is | 1& 2& 3& 4& | so that each beat has 2 counts... 1&
A triplet means three evenly spaced notes played in the same time as two notes of the same kind.
Triplet timing in this case simply means we play 3 beat counts in the place of 2 beat counts, but still maintaining the duration of 2 beat counts, therefore the timing count is | 1&& 2&& 3&& 4&& |, where 1&& replaces 1&, 2&& replaces 2&, etc.
Let's recap: | 1 2 3 4 | = | 1& 2& 3& 4& | = |1&& 2&& 3&& 4&&| (John's strumming pattern)
Listen and watch John Lennon closely. As you become familiar with the chords, this will become easier.
If you are a beginner, always start slowly. Become familiar with the tune and set a metronome or click track to a much slower tempo than the song, and practice your strumming. Once it becomes easier, speed up the metronome a little. Keep doing this till you reach the required tempo of the song... 156 bpm.