Blue Skies chords
by Willie Nelson
Blue Skies was written by Irving Berlin in 1926
Willie Nelson's recording of the song became a No. 1 country music hit in 1978 from the album - Stardust
Recorded: December 3–12, 1977
Released: April 1978
Music: Key of B Minor in 4/4 time at 84 bpm (♩)

Chords:

Bm, Bm(maj7), Bm7, Bm6, D, A7, F#7, D, D(alt), Eb7/D, F#7/C#, F#, G7, Cm, Cm(maj7), Cm7, Cm6, Eb, Bb7, Ab, Fm7
Blue Skies by Willie Nelson



Intro:

 

4/4 (~84 bpm)

 
||:  Bm   Bm(Bmaj7)  |  Bm7   Bm6  :||  

          Bm       Bm(maj7)          Bm7


Chorus 1:

 Blue skies     smil-in' at me
       Bm6               D           A7     | D  -  F#7  |
          Noth-in' but  blue___skies    do I see
           Bm      Bm(Bmaj7)         Bm7
          Blue-birds    sing-in' a song
        Bm6              D           A7      |   D    |
          Noth-in' but  blue___skies    from now on

          D                  Eb7/D       D


Bridge:

 I ne-ver saw the sun shin-in' so bright
        Eb7/D          D        Eb7/D         D
        Ne-ver  saw  things___  go-in'  so  right
        D                   Eb7/D      D
        No-ti-cing the days hur-ry-ing by
        Eb7/D           D    Eb7/D             D   F#7/C#
        When you're in love___my    how they  fly   by

          Bm         Bm(maj7)       Bm7


Chorus 2:

 Blue days,    all of them gone
        Bm6              D           A7        | D  -  F#7  |
          Noth-in' but  blue___skies    from now on



Instr:

 Repeat Chorus 1 / Bridge / Chorus 2

         Bm           Bm(maj7)       Bm7


Chorus 3:

 Blue skies     smil-in' at me
        Bm6              D            A7     | D  -  F#7  |
          Noth-in' but  blue___ skies    do I see
           Bm         Bm(maj7)      Bm7
          Blue days,    all of them gone
       Bm6               D           A7      |  D  /  F#  G7  | 
          Noth-in' but  blue___skies   from now on  (key change +1)

          Cm        Cm(maj7)            Cm7


Chorus 4:

 Blue skies___  smil-in'___ at me
        Cm6                Eb         Bb7      | Eb  -  G7  |
          Noth-in'___ but  blue skies___ do I___ see
          Cm   Cm(maj7)            Cm7
          Blue days,  all___ of them  gone
        Cm6              Eb         Bb7          | Eb  -  G7 | 
          Noth-in' but  blue___skies___from now___ on

          Cm   Cm(maj7)           Cm7


Chorus 4:

 Blue skies  smil-in' at me
        Cm6              Eb           Bb7   | Eb  -  G7 | 
          Noth-in' but  blue___ skies___ do I see
          Cm   Cm(maj7)         | Cm7  -   Cm6 |
          Blue days,  all of them gone
                        Eb        Bb7         Ab  | Fm7 |  Eb  |...
          Noth-in' but  blue skies   from now on
---
🗝️ B Minor
Numbered Circles: Chord fingering - number inside circle indicates which finger to use
Unmarked strings: Play open
X: Don't play string
O: Play open string
Barre Line: One finger holds down multiple strings
R: Root Note

Right Handed Charts: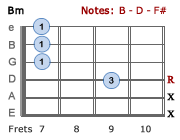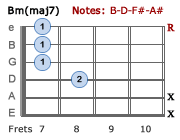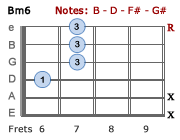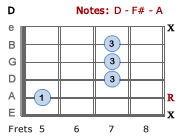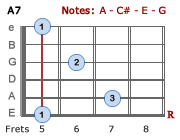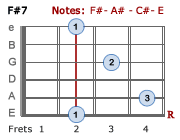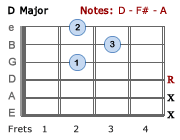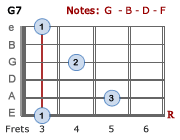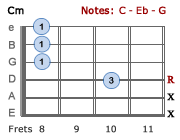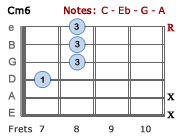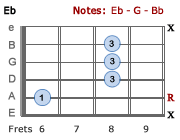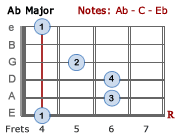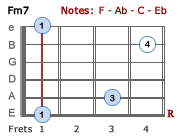 Left Handed Charts: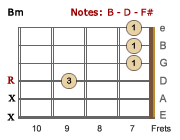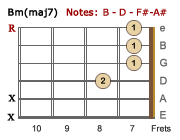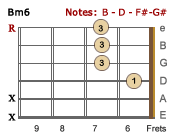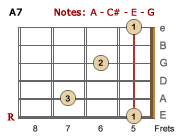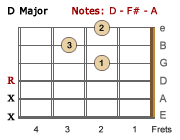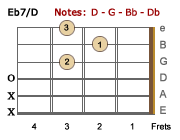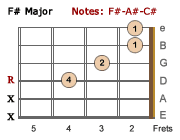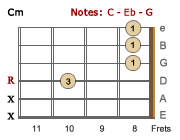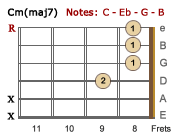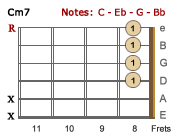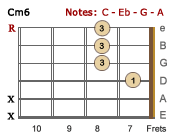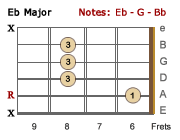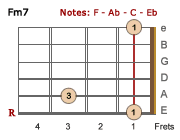 Notes:
Many chords are played in a jazz-like fashion whereby some typical barre chords are played open using a mini-barre and omitting strings 5 & 6 or 1 & 6.
You don't have to play the jazz version of these chords, but if you want to sound like the recording, it is worth the extra effort to learn these chords and add to your chord repertoire.
Learn all the chords first before playing, as the song moves along at a fair pace in relation to chord changes.