You're The Voice chords
by John Farnham
You're The Voice was written by Andy Qunta, Maggie Ryder, Chris Thompson, and Keith Reid. It was recorded by British-born Australian singer - John Farnham. It became a huge hit, topping the charts for seven weeks in late 1986, and won Single of the Year at the 1987 ARIA Music Awards.
Recorded: 1985-1986
Released: 15th September 1986 as a single prior to the album release.
Album: Whispering Jack
Music: Key of F Major in 4/4 time at 84 bpm (♩)
Chords: F, Gm/F, Ab, Bb, C, Cm, Eb/F
Chart Legend

Numbered Circles: Fingers used to play chords O: Optional Note
Barre Line: One finger holds down multiple strings R: Root Note
Unmarked strings: Play open X: Don't play string B: Bass Note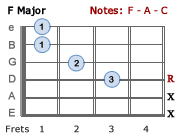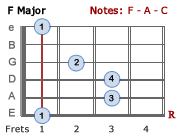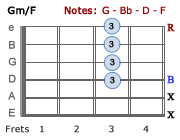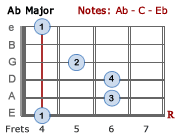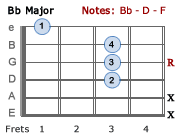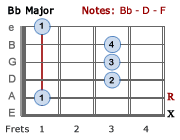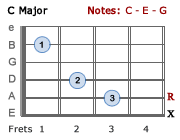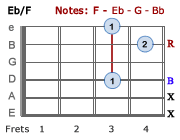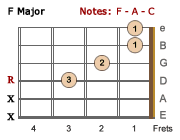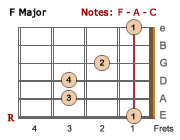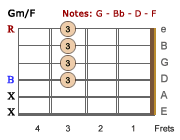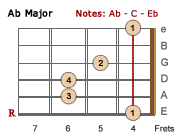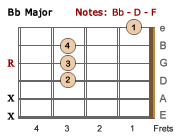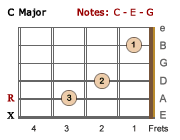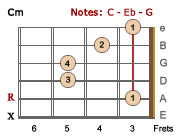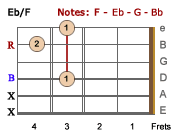 You're The Voice
Song Key is highlighted - Transpose to any other key
  
                 F             F                       Eb/F   Gm/F
Intro: 4/4  ‖: Claps |  𝄎  :‖     |  𝄎  |  𝄎  |  𝄎  |       |       ‖

 F                                          Eb/F     Gm/F
1. We have... the chance to turn the pa-ges o-ver |        |
          F       
   We can write what we want to write, 
   
   We got-ta make ends meet, 
                       Eb/F         Gm/F
   Be-fore we get much old-er... |...     |
   
   
          Bb  C  Bb  C    Bb
Bridge: | 1&  2  &3& 4& |   We're all some-one's daughter
          Bb  C              Bb       C    F
        |          We're all some-one's  | son... (How) |
              Bb   C  Bb                    C           Bb
        How | long...   can we look at each  oth-er  |      |
         Bb  C  Bb                   C
        |       Down the barrel of a gun? |   𝄎   |
 

        F
Chorus:  You're the voice, try and un-der-stand it
       F
         Make a noise and make it clear
         Eb/F                    Gm/F
         Oh.............. Woah - oh..............
       F
         We're not gon-na sit in sil-ence
       F
         We're not gon-na live with fear
         Eb/F                    Gm/F
         Oh.............. Woah - oh..............
	   
 
   F                                        Eb/F       Gm/F
2. This time... we know we all can stand to-geth-er |        |
            F
   With the pow-er to be powerful, 

   Be-liev-ing we can make it
   Eb/F          Gm/F
   Bet-ter... |...     |
   
   
           Bb  C  Bb  C          Bb
 Bridge: |              Ooh... |    We're all some-one's daughter |
           Bb  C            Bb   C       F
         |        We're all some-one's | son... (How) |
               Bb   C           Bb           C            Bb
         How | long...   can we look at each  oth-er...|      |
          Bb C  Bb                        C
         |         Down the barrel of a | gun? |   𝄎   |
	 
	 
	   F
Chorus:  You're the voice, try and un-der-stand it
       F
         Make a noise and make it clear
         Eb/F                    Gm/F
         Oh.............. Woah - oh..............
       F
         We're not gon-na sit in sil-ence
       F
         We're not gon-na live with fear
         Eb/F                    Gm/F
         Oh.............. Woah - oh..............
	   

             Bb          Ab     Cm     Bb           Ab     Cm
Bagpipes: ‖     |  𝄎  |      |      |      |  𝄎  |      |      ‖
 

           Bb  C  Bb  C         Bb
 Bridge: |             Ooh... |    We're all some-one's daughter |
           Bb  C            Bb   C       F
         |        We're all some-one's | son... (How) |
               Bb   C           Bb           C          Bb
         How | long...   can we look at each  oth-er |      |
          Bb C  Bb                        C
         |         Down the barrel of a | gun? |   𝄎   |
		 

       F
Chorus:  You're the voice, try and un-der-stand it
       F
         Make a noise and make it clear
         Eb/F                    Gm/F
         Oh.............. Woah - oh..............
       F
         We're not gon-na sit in sil-ence
       F
         We're not gon-na live with fear
         Eb/F                    Gm/F
         Oh.............. Woah - oh..............
	   
	          F
Chorus:  You're the voice, try and un-der-stand it
       F
         Make a noise and make it clear
         Eb/F                    Gm/F
         Oh.............. Woah - oh..............
         F
         We're not gon-na sit in sil-ence
         F
         We're not gon-na live with fear
         Eb/F             Gm/F                                  F
         Oh.............. Woah - oh...(repeat to fade or end)|  𝄑  | 

---
---
Notes
The timing is a little tricky in this song. In the first bar of the Bridge, I have included timing counts to give you some idea of the changing chords within the bar. If you find this difficult to follow, the easiest solution is to listen to the song and get a feel for it... once to get used to it, the changes come naturally.
Beginners may like to try an easier key: D Major is much easier to play, and you don't have to play the bass notes leaving you with a list of very easy chords - D, Em, F, G, A, Am, C... use the Transposer to change the song key.
If you are playing in D major, and want to play along with the video, you will need a capo on the 3rd fret.
Excellent song - amazing artist.
Songs by John Farnham on this site: