Goodbye Mrs Durkin chords & lyrics
by The Irish Rovers
The author of Goodbye Mrs Durkin is unknown, while the melody was set to the traditional tune of 'Cailíní deasa Mhuigheo' (pretty girls of Mayo). This version of the song is by The Irish Rovers from the album - The Best of The Irish Rovers.
Music: Key of Eb Major in 2/2 time at 122 bpm
Song Chords: Eb, Bb
Easier with Capo on 1 and play in D Major

Chords with Capo:

D, A
Excellent song for beginners with 2 very easy beginner chords.
Goodbye Mrs Durkin by The Irish Rovers
Capo on 1 if playing with the video



Intro:

 

2/2

  ♩ |  D  |   A  |  %  |   D   |
           
         D             A                               D            


Chorus:

 Good-bye Mrs. Dur-kin__ I'm sick and tired of work-in'
                              A                             D 
        No more I'll dig the pra-ties__ No long-er I'll be poor
                               A                          D
        As sure as my name is Bar-ney__ I'm off to Cal-i-for-ny
                             A                                    D  |  A  |  D  |
        Instead of dig-ging pra-ties__ I'll be dig-ging lumps of gold

           D                A                                D   
1. In the days when I was court-in'__ I was nev-er tired re-sort-in'
                             A                                    D 
   To the ale-house and the play-house, and the o-ther house be-sides
                           A                                  D 
   But I told my broth-er Sea-mus__ "I'll be off now and grow fa-mous
                          A                                      D 
   And be-fore that I re-turn again__ I'll roam the whole world wide."

                  D             A                               D 


Chorus:

 So it's, Good-bye Mrs. Dur-kin__ I'm sick and tired of work-in'
                              A                             D 
        No more I'll dig the pra-ties__ No long-er I'll be poor
                               A                          D
        As sure as my name is Bar-ney__ I'm off to Cal-i-for-ny
                             A                                    D  |  A  |  D  |
        Instead of dig-ging pra-ties__ I'll be dig-ging lumps of gold

                D                A                             D  
2. Well, I've court-ed girls in Blar-ney__ In An-trim and Kil-lar-ney
                      A                             D
   In Dub-lin and in Ker-ry__ Down to the coves of Cork
                              A                              D
   But I'm tired of all this plea-sure, so now I'll take my lei-sure
                               A                                      D
   And the next time that you hear from me__ I'll write you from New York


                  D             A                               D 


Chorus:

 So it's, Good-bye Mrs. Dur-kin__ I'm sick and tired of work-in'
                              A                             D
        No more I'll dig the pra-ties__ No long-er I'll be poor
                               A                          D
        As sure as my name is Bar-ney__ I'm off to Cal-i-for-ny
                             A                                    D  |  A  |  D  |
        Instead of dig-ging pra-ties__ I'll be dig-ging lumps of gold

           D            A                             D
3. When I land-ed in A-mer-i-ca__ I met a man named Burke 
                      A                                   D
   He told me if I'd stay a while__ He'd sure-ly find me work 
                       A                                     D
   But work he didn't find me__ So there's noth-ing here to bind me 
                           A                     D
   I'm bound for San Fran-cis-co__ In Califor-ni-ay!


Replace the chorus with the following words if you prefer... Da da da da da da dee da... 

                  D             A                               D 


Chorus:

 So it's, Good-bye Mrs. Dur-kin__ I'm sick and tired of work-in'
                              A                             D
        No more I'll dig the pra-ties__ No long-er I'll be poor
                               A                          D
        As sure as my name is Bar-ney__ I'm off to Cal-i-for-ny
                             A                                    D
        Instead of dig-ging pra-ties__ I'll be dig-ging lumps of gold

              D              A                               D
4. Well, I'm now in San Fran-ci-sco__ And my for-tune it is made 
                        A                                     D
   My pock-ets load-ed down with gold__ I'll throw a-way me spade 
                            A                                 D
   I'll go back to dear old Er-in__ Spend my for-tune nev-er car-in' 
                          A                             D
   I'll mar-ry Queen Vic-tor-i'__ Mrs. Dur-kin for to spite 

                  D             A                               D 


Chorus:

 So it's, Good-bye Mrs. Dur-kin__ I'm sick and tired of work-in'
                              A                             D
        No more I'll dig the pra-ties__ No long-er I'll be poor
                               A                          D
        As sure as my name is Bar-ney__ I'm off to Cal-i-for-ny
                             A                                    D  |  A  |  D  |
        Instead of dig-ging pra-ties__ I'll be dig-ging lumps of gold         𝄑
    
---
🗝️ D Major
Numbered Circles: Chord fingering - number inside circle indicates which finger to use
Unmarked strings: Play open
X: Don't play string
Barre Line: One finger holds down multiple strings
R: Root Note

Right Handed Charts: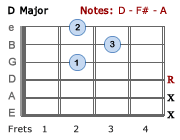 Left Handed Charts: