Echo Beach chords
by Martha and the Muffins
Echo Beach was written by Mark Gane, from the Canadian new wave band - Martha and the Muffins.
Recorded: 1979
Released: 1980 from the album Metro Music.
Music: Key of Am in 4/4 time at ~ 163 bpm
Chords: Am, Bb, C, Cmaj7, D, Em, F, G
Please Note: These chords can be played in a variety of ways with a blend of open and barre chords for player comfort.
Chart Legend

Numbered Circles: Fingers used to play chords O: Optional Note
Barre Line: One finger holds down multiple strings R: Root Note
Unmarked strings: Play open X: Don't play string B: Bass Note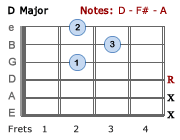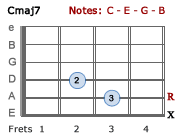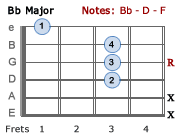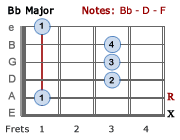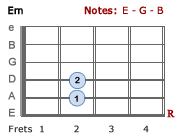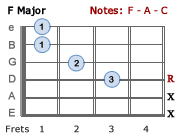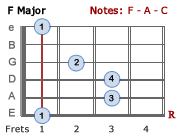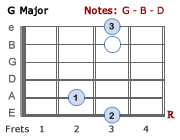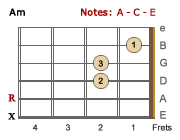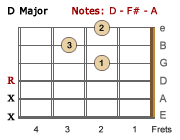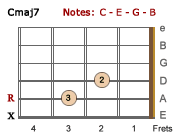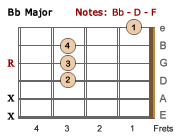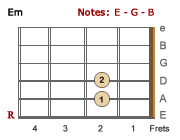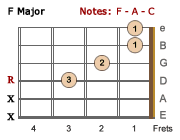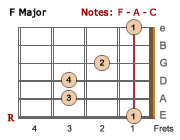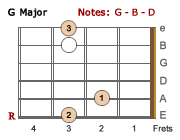 Echo Beach
  


Intro:

  ‖     Keyboard      |


Riff:

   ‖: Am  | D - Cmaj7  |  Am  | D - C  :‖ 

x 4




Ch:

     ‖: Am  |     G      |  Em  | F - G  :‖ 

x 2



     Am                        D       C          Am  | D  -  Em  |
1. I know it's out of fash-ion   And a tri-fle un-cool
       Am               D      C          Am  | D - Em |
   But I can't help it   I'm a ro-man-tic fool
          Am              D             C      Am  | D  - Em  |
   It's a hab-it of mine   To watch the sun go down
      Am           D            C      Am  | D - Em |
   On E-cho Beach   I watch the sun go down

        G                        D
** From 9 – 5 I have to spend my time at work
      G                             D
   My job is ver-y bor-ing   I'm an of-fice clerk
       Am                                Em
   The on-ly thing that helps me pass my time a-way
      Am                            Em           |  F  |  G  |
   Is know-ing I'll be back on Echo Beach some day

      ‖ Am  | G  | Em  | F - G  | Am  | G  | Em  | F - G  | Am  | 𝄎 ‖ 



Riff:

 ‖  Am  | D - Cmaj7  |  Am  | D - C  ‖

      Am                         D            C         Am | D  – Em  |
2. On sil-ent sum-mer eve-nings   The skies a-live with lights
     Am                          D         C       Am  | D – Em  |
   A build-ing in the dist-ance   Sur-re-a-lis-tic sight
      Am           D               C     Am   | D – Em  |
   On E-cho Beach   Waves make the on-ly sound
      Am           D              C      Am  | D – Em  |
   On E-cho Beach   There's not a soul a-round

        G                        D
** From 9 – 5 I have to spend my time at work
      G                              D
   My job is ver-y bor-ing    I'm an of-fice clerk
       Am                                Em
   The on-ly thing that helps me pass my time a-way
      Am                             Em
   Is know-ing I'll be back on Ech-o Beach some day



Instr:

 ‖   F  |   G   |  Bb  |   C   |   F  |   G   |  Bb  |   C   ‖



Solo:

  ‖  Am  |   G   |  Em  | F - G |  Am  |   G   |  Em  | F - G ‖

        Am            G                  Em              F         G


Chorus:

 E-cho Beach   Far a-way any-time   E-cho Beach   Far a-way any-time
        Am            G                  Em              F         G
        E-cho Beach   Far a-way any-time   E-cho Beach   Far a-way any-time...
        
Guitar Riff:
       

Am       D      C     Am      D       C


    e |---------------------------------------------|
    B |--------------------0---------------------0--|
    G |---5-4-0-7----7---------5-4-0-7-----7--------|
    D |------------7-----5---------------7-----5----|
    A |-0--------5-----3-----0---------5-----3------|
    D |---------------------------------------------|
---
Martha and the Muffins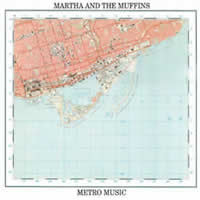 Origins: Toronto, Ontario, Canada
Music Style: New Wave
Active Years: 1977-present
Original Line-Up: David Millar (guitar), Mark Gane(guitar), Martha Johnson (lead vocals, keyboards), Carl Finkle (bass) and Tim Gane (drums).
Also known as: M+M (1987-1992)