The A Team chords
by Ed Sheeran
The A Team was written by Ed Sheeran.
Recorded: 2010
Released: June 12, 2011 from the album +
Music: Key A Major in 4/4 time at approx. 84 bpm (♩)
Chords: A, Amaj7, A/E, F#m, F#m7, F#m9, D, Dmaj7, Bm7, E, EaddG#... charts below
Beginners: You can replace all extended chords with simpler versions, i.e., A instead of Amaj7; D instead of Dmaj7; F#m or F#m7 instead of F#m9; E instead of E/G# etc. They all sound fine.
Chart Legend

Numbered Circles: Fingers used to play chords O: Optional Note
Barre Line: One finger holds down multiple strings R: Root Note
Unmarked strings: Play open X: Don't play string B: Bass Note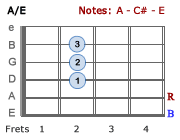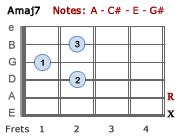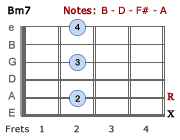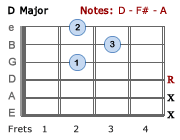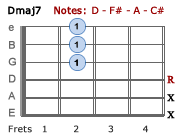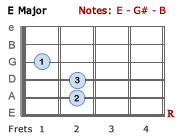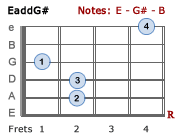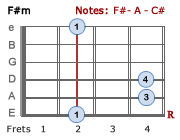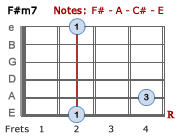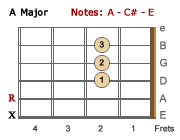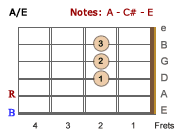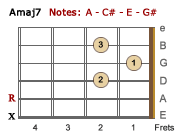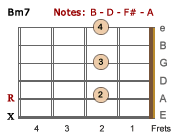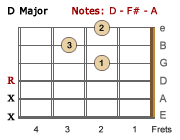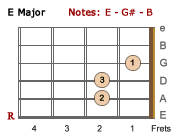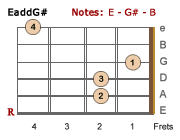 The A Team by Ed Sheeran
Song Key is highlighted - Transpose to any other key
Count:   1&2&3&4& 1&2&3& 4&  1&2&3& 4&  1&2&3&4&
         A               E   F#m7   D   A 


Intro:

 |         |         |          |         |

  A                                        E         F#m
1. White lips, pale face     Breath-ing in snow-flakes
               D          A      
   Burnt lungs, sour taste 
  A                                          E      F#m
   Light's gone, day's end    Strug-gling to pay rent
                D           A    
   Long nights, strange men

       Bm7                              D


** 

And they say     She's in the Class A Team
                   A                             E
   Stuck in her day-dream    Been this way since eigh-teen
                   Bm7                             D
   But late-ly her face seems    Slowly sink-ing, wast-ing
                   A
   Crumbl-ing like past-ries    And they scream
            E
   The worst things in life come free to us
               F#m             D
  'Cause we're just un-der the up-per hand
 A
   And go mad for a couple grams
F#m                      D           A
   And she don't want to go out-side   To-night
            F#m                   D
   And in a pipe she flies to the Mo-ther-land
  A
   Or sells love to a-no-ther man
 F#m             D            A
   It's too co-o-old out-si-i-ide
       A            F#m7     D    A
   For an-gels to fly     -    |     |
                F#m7     D     A
   An-gels to fly     -     |     |

  A                                                E          F#m
2. Ripped gloves, rain-coat      Tried to swim and stay a-float
              D          A           
   Dry house, wet clothes 
 A                                          E        F#m
   Loose change, bank notes    Wea-ry-eyed, dry throat
              D        A     
   Call girl, no  phone 

       Bm7                              D


** 

And they say     She's in the Class A Team
                   A                             E
   Stuck in her day-dream    Been this way since eigh-teen
                   Bm7                             D
   But late-ly her face seems    Slowly sink-ing, wast-ing
                   A
   Crumbl-ing like past-ries    And they scream
       E
   The worst things in life come free to us
               F#m             D
  'Cause we're just un-der the up-per hand
 A
   And go mad for a couple grams
F#m                      D           A
   But she don't want to go out-side    To-night
            F#m                   D
   And in a pipe she flies to the Mo-ther-land
  A
   Sells love to a-no-ther man
 F#m             D            A
   It's too co-o-old out-si-i-ide  
                  Bm7                     D
   For an-gels to fly      An an-gel will die
                   F#m
   Covered in white
                     A
   Closed eye    And hop-ing for a bet-ter life
   Bm7                       D
   This time, we'll fade out to-night
 
   Straight down the line...  

         F#m9   Dmaj7  Amaj7   Amaj7  F#m9   Dmaj7  Amaj7   Amaj7
 

Instr:

 |     -       |      -       |     -       |      -      |

       Bm7                              D


**

 And they say     She's in the Class A Team
                   A                             E
   Stuck in her day-dream    Been this way since eigh-teen
                   Bm7                            D
   But late-ly her face seems    Slowly sink-ing, wast-ing
                   A
   Crumbl-ing like past-ries     They scream
       E
   The worst things in life come free to us
             F#m            D
   And we're all un-der the up-per hand
 A
   And go mad for a couple grams
F#m                     D               A
   And we don't want to go-o-o out-side    To-night
              F#m                   D
   And in the pipe she flies to the Mo-ther-land
  A
   Or sell love to a-no-ther man
 F#m             D            A
   It's too co-o-old out-si-i-ide
                  F#m7     Dmaj7     Amaj7
   For an-gels to fly   -         |         |
              F#m7     Dmaj7     Amaj7
   An-gels to fly   -         |         |
        F#m7   Dmaj7     Amaj7      
   Fly...    -    fly... y...  
       A          F#m7       Dmaj7      Amaj7 
   For an-gels to fly    to  fly    to  fly
       A/E        A
   For An-gels to die
                  

𝄑
---