True Colors chords
by Cyndi Lauper
True Colors was written by Tom Kelly and Billy Steinberg.
Recorded: March 3rd, 1986
Released:July 25th, 1986 from the album of the same name.
Producers: Cyndi Lauper, Lennie Petze
Music:

Key of A Minor in 4/4 time at 85 bpm (♩)

Song Chords:

Am, G, C, CaddG, Dm, Dsus4, F
True Colors by True Colors



Intro:

 

4/4


   

𝄁

  Am  -  G  |  C  -  F  |  Am  -  G  |  C  -  F  

𝄁



                Am  G       C            F
1. You with the sad eyes___ Don't be dis-cour-aged
        CaddG F           Am           G
   Oh I rea - lize___ Its hard to take cour-age
        C             Dm             C              F
   In a world full of peo-ple___ You can lose sight of it all
           Am           G                        F       C
   And the dark-ness in-side you___ Can make you feel so small

                       F    C       G


Chorus:

 But I see your true col-ors shin-ing through
                   F    C              F            G
        I see your true col-ors___ And that's why I love you
           F          C        F        Am
        So don't be a-fraid to let them show
             F    C          F    C
        Your true col-ors___ True col-ors
            G                   | Am  -  G  | C  -  F  | Am  -  G  | C  -  F  |
        Are beau-ti-ful___ Like a rain-bow

       

𝄁

  Am  -   G  |  C  -  F   |  Am  -  G  |  C  -  F  

𝄁



             Am    G       C           F
2. Show me a smile then___ Don't be un-happy
               CaddG     F         Am           G
   Can't  re - mem - ber when___ I last saw you laugh-ing
      C                    Dm                   C              F
   If this world makes you cra-zy___ And you've tak-en all you can bear
       Am      G                  F            C
   You call me up___ Be-cause you know I'll be there

                          F    C       G


Chorus:

 And I'll see your true col-ors shin-ing through
                   F    C              F            G
        I see your true col-ors___ And that's why I love you
           F          C        F        Am
        So don't be a-fraid to let them show
             F    C          F    C
        Your true col-ors___ True col-ors
            G                   | Am  -  G  | C  -  F  | Am  -  G  | C  -  F  |
        Are beau-ti-ful___ Like a rain-bow
               
    

𝄁

 Am  - C  | Am  - CaddG  | Dsus4  - Dm     |    Am   -   G  

𝄁


                              (I  can't   re-mem-ber when I last saw you laugh-ing...)

   C                   Dm                   C              F
3. If this world makes you cra-zy___ You've ta-ken all you can bear
       Am      G                  F            C
   You call me up___ Be-cause you know I'll be there

                          F    C       G


Chorus:

 And I'll see your true col-ors shi-ning through
                   F    C              F            G
        I see your true col-ors___ And that's why I love you
           F          C        F      Am
        So don't be a-fraid to let it show
             F    C          F    C
        Your true col-ors___ True col-ors 
        F    C           G   
        True col-ors are shin-ing through
                   F    C              F            G
        I see your true col-ors___ And that's why I love you
           F           C       F        Am
        So don't be a-fraid to let them show
             F    C          F    C
        Your true col-ors___ True col-ors                    

𝄐

 
            G                            

𝄁

 Am  - G  | C   -  F  

𝄁


        Are beau-ti-ful___ Like a rain-bow                       ... Drums

---
🗝️ A Minor
Numbered Circles: Chord fingering - number inside circle indicates which finger to use
Unmarked strings: Play open
X: Don't play string
Barre Line: One finger holds down multiple strings
R: Root Note
Right Handed Charts: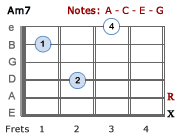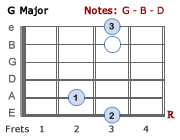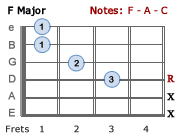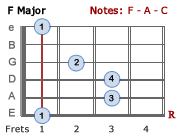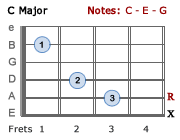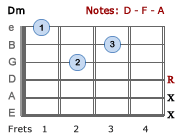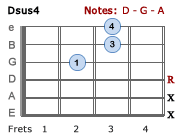 Left Handed Charts: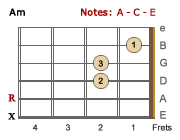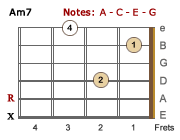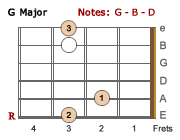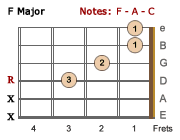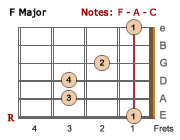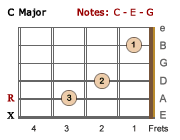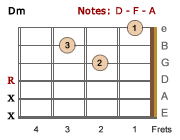 Notes:
Level Of Ease: Fairly - I have kept this version as simple as possible so that beginners can play as well.
Song Key: A Minor... no sharps or flats (relative minor of C Major)
The standard chord progression for A minor: Am - Bdim - C - Dm - Em - F - G . It's always interesting to look at the chords used in any song. All the chords in this song follow the standard chord progression for A minor, with some added 'usable' chords, i.e., CaddG and Dsus4.
CaddG is simply a C chord with an added 5th or G (1st string, 3rd fret).
Dsus4 is usually played with fingers 1, 3 and 4. In this song try playing the chord with fingers 2, 3 and 4 because the Dm follows the Dsus4 closely - simply take your pinkie off the 1st string (3rd fret) and add your index finger to the 1st string (1st fret) to play the Dm... very easy.
The hyphen between two chords simply means that the 2 chords share the bar equally. In this case the bar has 4 beats, so each chord will be played for 2 beats of the bar, e.g., | Am - G | means you play the Am for 2 beats and the G for 2 beats.
The fermata or pause symbol over the last chord of this song means the note is held for a duration that is left up to the discretion of the performer. You may want to stop abruptly or keep the chord hanging and let it fade naturally like the video, or you may want to play the chord for a few bars... the choice is yours.
You can replace the Am with an Am7 if you want.