Ring Of Fire chords
by Johnny Cash
Ring Of Fire was written by June Carter and Merle Kilgore.
Johnny Cash recorded the song March 25, 1963, and released it April 19, 1963 from the album Ring Of Fire: The Best Of Johnny Cash.
Music: Key of G Major in 4/4 and 2/4 time at a moderately bright Tempo
Easy Chords: G, C, D
Changes in the time signature occur throughout the song especially in the Intro and wherever the trumpets play. I have only included the time signatures in the Intro and Instrumental sections on the song sheet so you can get a feel for the timing. In the verses the bars of C Major represented by * are also in 2/4 time.
Chart Legend

Numbered Circles: Fingers used to play chords O: Optional Note
Barre Line: One finger holds down multiple strings R: Root Note
Unmarked strings: Play open X: Don't play string B: Bass Note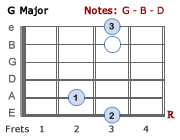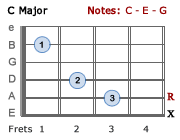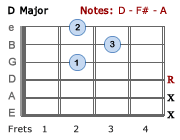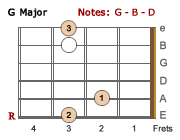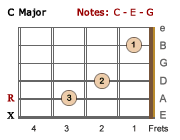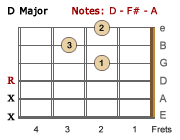 Ring Of Fire
Song Key is highlighted - Transpose to any other key
                      G    C     G                 C     G


Intro:

 4/4 ‖ 𝄽 ♩ ♩ ♩ |    | 2/4 | 4/4 |  𝄎  |  𝄎  | 2/4 | 4/4 |  𝄎  ‖
            (Trumpet)

   G         C        G     

  C   

 G                C      G   

   C  

  G
1. Love is a burn-ing thing | * |    And it makes a fie-ry ring | * |     |
   G        C       G  

   C  

      G                D       G
   Bound by wild de-sire| * |        I fell in-to a ring of fire

        D              C                G


Chorus:

 I fell in-to a burn-ing ring of fire
               D                         C           G
        I went down down down    And the flames went high-er
               G                        C       G           D       G
        And it burns burns burns    The ring of fire    The ring of fire

                   G     C     G                 C     G


Instr:

‖(Trumpet)|     | 2/4 | 4/4 |  𝄎  |  𝄎  | 2/4 | 4/4 |  𝄎 ‖

                   G     C     G                 C     G
                |     | 2/4 | 4/4 |  𝄎  |  𝄎  | 2/4 | 4/4 |  𝄎 ‖

        D              C                G


Chorus:

 I fell in-to a burn-ing ring of fire
               D                         C           G
        I went down down down    And the flames went high-er
               G                        C       G           D       G
        And it burns burns burns    The ring of fire    The ring of fire

        G        C       G  

     C 

    G                  C    G  

    C   

 G
2.  The taste of love is sweet | * |     When hearts like ours meet | * |     |
    G              C      G   

    C  

  G             C         G
    I fell for you like a child | * |    Oh, but the fire went wild

        D              C                G


Chorus:

 I fell in-to a burn-ing ring of fire
               D                         C           G
        I went down down down    And the flames went high-er
               G                        C       G           D       G
        And it burns burns burns    The ring of fire    The ring of fire

        D              C                G


Chorus:

 I fell in-to a burn-ing ring of fire
               D                         C           G
        I went down down down    And the flames went high-er
               G                        C       G           D       G
        And it burns burns burns    The ring of fire    The ring of fire
               G                          C       G           D       G
        And it burns, burns, burns    The ring of fire    The ring of fire
            D       G           D       G
        The ring of fire    The ring of fire... (repeat to fade)
---