The Mountains Of Mourne chords & lyrics
by Irish Mist
The Mountains Of Mourne lyrics were written by Percy French - famous Irish songwriter and entertainer, while the music is traditional (composer unknown). The song Carrigdhoun, which is also a traditional Irish folk song, shares the same tune.
This version by Irish Mist is from the album Irish Mist - Their Classic Collection.
Music: Key of D Major in 3/4 time at ~ 114 bpm (♩)

Chords:

D, G, Em, A, A7, Bm... chord charts below.
Mountains Of Mourne by Irish Mist



Intro:

 

3/4

 
        |  D  |  D  |  G  |  Em  |  A  |  A7  |  D  |  A7  |

        |  D  |  D  |  G  |  Em  |  A  |  A7  |  D  |  A7  |  D  |  D  | 

      D                       G           Em
1. Oh Ma-ry this Lon-don's a won-der-ful sight
             A7                       D
   With the peo-ple here work-ing by day and by night
         D                         G           Em
   They don't grow po-ta-toes nor bar-ley nor wheat
                A7                         D
   But there's gangs of them dig-gin' for gold in the street
       A7                             D          Bm
   At least when I asked them that's what I was told
         D           Bm          Em            A7
   So I just took a hand at this dig-gin' for gold
            D                            G           Em
   But for all that I've found there I might as well be
              A7                         D
   Where the Moun-tains Of Mourne sweep down to the sea

       D                       G           Em
2. Re-mem-ber young Peter O'-Laugh-lin of course
        A7                      D
   He's o-ver here now at the head of the force
      D                    G               Em
   I met him to-day as I walked down the strand
              A7                              D
   Sure he stopped all the traf-fic with one wave of his hand
           A7                           D              Bm
   As we stood there and talked of the days that were gone
            D         Bm         Em             A7
   To the whole pop-u-lat-ion of Lon-don looked on
            D                         G            Em
   But for all his great powers he's long-ing like me
          A7                                D
   To be back where the dark Mourne sweeps down to the sea

            D                        G               Em
3. There's beau-ti-ful girls here I sure ne-ver you mind
        A7                         D
   With won-der-ful shapes na-ture ne-ver de-signed
    D                       G           Em
   Love-ly com-ple-xion all ro-ses and cream
       A7                           D
   As Laugh-lin re-marked with re-gards to the same
       A7                      D         Bm
   But if at those ro-ses you hap-pen to sip
            D            Bm         Em           A7
   Till the co-lor would all come a-way on your lips
            D                            G         Em
   So I'll wait for my wild rose who's waitin' for me
              A7                         D
   Where the Moun-tains Of Mourne sweep down to the sea


4. Repeat  Verse  1

---
🗝️ D Major
Numbered Circles: Chord fingering - number inside circle indicates which finger to use
Unmarked strings: Play open
X: Don't play string
Barre Line: One finger holds down multiple strings
R: Root Note
Right Handed Charts: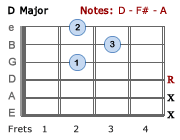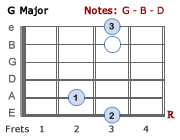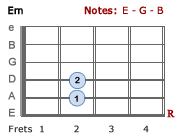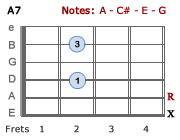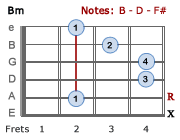 Left Handed Charts: