Me and Bobby McGee chords
by Janis Joplin
Me and Bobby McGee was written by Kris Kristofferson and Fred Foster.
Recorded by Janis Joplin between Sep 5 - Oct 1, 1970
Single released on Jan 11, 1971 from the album Pearl.
Music: Key of G Major with a key change to A Major in 4/4 time at ~ 94 bpm (♩)
Chords in G Major: G, Gadd4, G7, C, D, D7
Chart Legend

Numbered Circles: Fingers used to play chords O: Optional Note
Barre Line: One finger holds down multiple strings R: Root Note
Unmarked strings: Play open X: Don't play string B: Bass Note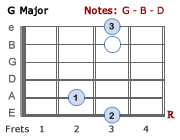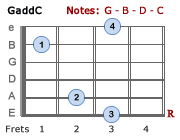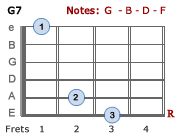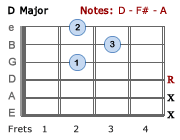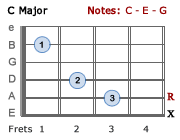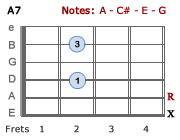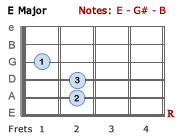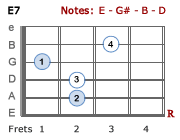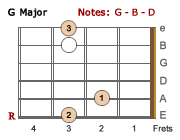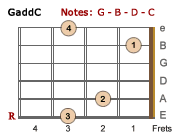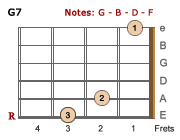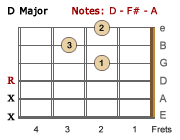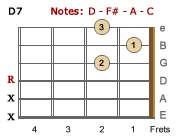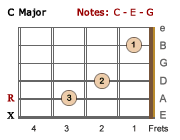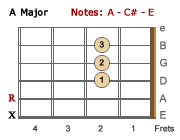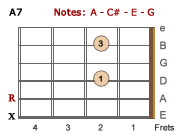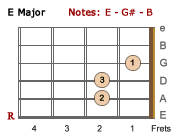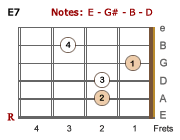 Me and Bobby McGee
Song Key is highlighted - Transpose to any other key
               G    Gadd4      G    Gadd4     G     


Intro: 

4/4 |                |                     |

   G
1. Bust-ed flat in Bat-on Rouge    Waiting  for  a  train
                                            D
   And I's feel-ing near-ly as fa-ded as my jeans
      
   Bob-by thumbed a die-sel down    Just be-fore it rained
                                     G    Gadd4   G
   It rode us all the way to New Or-|leans           |
     G
   I pulled my har-poon out of my di-rty red ban-dan-na
                             G7              C
   I was play-ing soft while Bob-by sang the blues
   C                                           G
   Wind-shield wip-ers slap-ping time    I was hold-ing Bob-by's hand in mine
   D                                D7
   We sang ev'-ry song that driv-er knew

        C                                  G


Chorus:

 Free-dom's just a-no-ther word for no-thing left to lose
        D7                                             G
        Noth-ing don't mean noth-ing honey if it ain't free no no
            C                           G
        And feel-ing good was ea-sy Lord when he sang the blues
                 D
        You know feel-ing good was good en-ough for me
                                             G            A
        Good e-nough for me and my Bob-by Mc-Gee... |(key change)|

            A
2. From the Ken-tuck-y coal mine to the Cal-i-for-nia sun
                                        E
   Hey Bob-by shared the sec-rets of my soul

   Through all kinds of weath-er through ev'-ry-thing we done
                                     A
   Hey Bob-by ba-by kept me from the cold
       A
   One day up near Sa-li-nas Lord    I let him slip a-way
                          A7                 D
   He's look-ing for that home and I hope he finds it
           D                                   A
   But I'd trade all of my to-mor-rows for one sing-le yes-ter-day
         E                               E7
   To be hold-ing Bob-by's bo-dy next to mine

        D                                   A


Chorus:

 Freed-om is just a-noth-er word for noth-ing left to lose
        E7                                   A
        No-thing that's all that Bob-by left me yeah
            D                           A
        But feel-ing good was ea-sy Lord when he sang the blues
            E7
        Hey feel-ing good was good e-nough for me hmm  hmm
                                             A
        Good e-nough for me and my Bob-by Mc-Gee

         A
3. La da da   la da da   la da da   la da da da
                                    E
   La da da   la da da   Bob-by  Mc-Gee

   La da da da da da     La na na na na
                                   A
   La la la la la la     Bob-by Mc-Gee yeah

         A   
4. La na na  la na la la na la  la na na    La na na  la na na  la na na
                                  E
   Hey now Bob–by lo-na Bob-by Mc-Gee yeah
                 
   Lo-na  Lo-la-la  lo-na-na    Lo-na-na  lo-na-na  lo-na-na  lo-na-na  lo-na-na
                                    A
   Hey now Bob-by lo - na Bob-by Mc-Gee yeah

            A
5. Lord I'm cal-ling my lov-er call-ing my man

   I said I'm call-ing my lov-er just the best I can
                                               E
   C'mon hey now Bob-by yeah hey now Bob-by Mc-Gee yeah

   Lor-dy Lor-dy Lor-dy Lor-dy Lor-dy Lor-dy Lor-dy Lord
                         A
   Hey hey hey Bob-by Mc-Gee Lord

          A                 E                       A


Instr:

 |     |  𝄎  |  𝄎  |     |  𝄎  |  𝄎  |  𝄎  |     | 

             A                                   E
       |           |     𝄎     |     𝄎     |           |
                                                 (Lordy)

           E     
   (Lordy) Lor-dy Lor-dy Lor-dy Lor-dy Lor-dy Lor-dy Lord
                           A
    Hey hey hey Bob-by Mc-|Gee yeah... |
---
Notes:
Level Of Ease: Easy song for beginners
Song Keys: G Major (1 sharp - F#) with a key change to A Major (3 sharps - F# C# G#) after the first chorus, going into the second verse.
In the Intro, the Gadd4 chord represents GaddC. Play a G chord using fingers 2, 3, and 4, and add the C note with your first finger (first fret, 2nd string). You don't have to play the chord, but it does add a nice touch.
You may want to add 7th and sus4 versions of chords, e.g., in the instrumental section at the end of the song. This can help make the song sound a little more interesting if you are playing solo. Instead of playing the same chord for 6 bars you might consider the following:
Instead of | A | A | A | E |, try | A - A7 | A - Asus4 | A - A7 | E |... or make up your own.
| E | E | E | E | can also have been written as | E | 𝄎 | 𝄎 | 𝄎 | where the repeat sign 𝄎 signifies a repeat of the previous bar.
Janis Joplin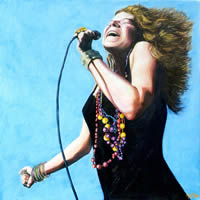 Born: Janis Lyn Joplin on January 19th, 1943 in Port Arthur, Texas, United States
Occupation: singer-songwriter
Years Active: 1962–1970
Died: October 4th, 1970 (aged 27) in Los Angeles, California, United States
Instruments: Vocals, guitar, autoharp, harmonica, piano, percussion
Music Styles: Blues rock, psychedelic soul, soul, country, jazz blues
Associations: Big Brother and the Holding Company, Kozmic Blues Band, Full Tilt Boogie Band, Grateful Dead, Kris Kristofferson.