Love Is A Losing Game chords
by Amy Winehouse
Love Is A Losing Game was written by Amy Winehouse.
Recorded: 2006
Released: 2007
Album: Back To Black
Music: Key of C Major in 4/4 time at 80 bpm (♩)

Chords:

Cmaj7, G9, Fm, Am7, Dm7, Fdim7
Numbered Circles
: Fingers used to play chords
O:
Optional Note
Barre Line:
One finger holds down multiple strings
R:
Root Note
Unmarked strings:
Play open
X:
Don't play string
B:
Bass Note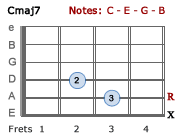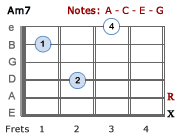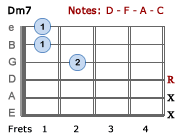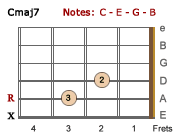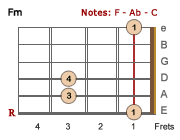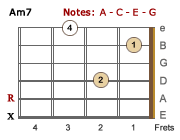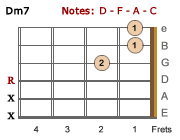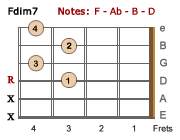 ASCII Chord Charts: number = fret, x = don't play, 0 = play open string, (B) Barre Chord
| Chord | Guitar | Piano | Chord | Guitar | Piano |
| --- | --- | --- | --- | --- | --- |
| Cmaj7 | x32000 | C-E-G-B | Am7 | x02010 | A-C-E-G |
| G9 | 300201 | G-B-D-F-A | Dm7 | xx0211 | D-F-A-C |
| Fm | 133111 (B) | F-Ab-C | Fdim7 | xx3434 | F-Ab-B-D |
Love Is A Losing Game
Song Key is highlighted - Transpose to any other key
          Fdim7


Intro:

 |         |
          
Cmaj7        G9             Fm          Cmaj7
  1. For you I was a flame    Love is a los-ing game
Cmaj7                 G9           Fm          Cmaj7
     Five sto-ry fire as you came    Love is a los-ing game
  Am7          Dm7                 Fm           Cmaj7
     One I wish   I ne-ver played    Oh, what a mess we made
Cmaj7            G9            Fm          Cmaj7
     And now the fi-nal frame    Love is a los-ing game
   
          Fdim7   
       |         |
        
Cmaj7           G9           Fm          Cmaj7
  2. Played out by the band    Love is a los-ing hand
Cmaj7          G9             Fm          Cmaj7
     More than I could stand    Love is a los-ing hand
  Am7               Dm7           Fm             Cmaj7
     Self pro-fessed,  pro-found    Till the chips    were down
Cmaj7              G9             Fm          Cmaj7
     Know you're a gambl-ing man    Love is a los-ing hand
     
         Fdim7
      |         |  
         

Cmaj7           G9             Fm          Cmaj7
  3. Though I'm ra-ther blind    Love is a fate re-signed
Cmaj7           G9           Fm          Cmaj7
     Mem-o-ries mar my mind    Love is a fate re-signed
  Am7      Dm7           Fm                  Cmaj7
     O-ver fu-tile odds    And  laughed  at  by  the Gods
Cmaj7            G9            Fm          Cmaj7
     And now the fi-nal frame    Love is a los-ing game 
---
---
Amy Winehouse

Born: Amy Jade Winehouse on the 14th September 1983 in Southgate, London, England
Died: 23rd July, 2011 (aged 27) in Camden, London, England - alcohol poisoning
Occupation: singer-songwriter, musician
Instruments: Vocals, guitar, drums
Active Years: 2003 – 2011
Music Styles: Soul, blue-eyed soul, rhythm and blues, jazz, reggae
Associations: Dionne Bromfield, Mark Ronson, Tony Bennett, Nas, Ghostface Killah, Zalon, Tyler James, Paul Weller, Lily Allen.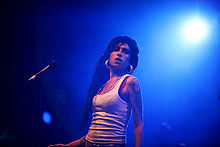 Amy Winehouse was a British singer songwriter. She was born Amy Jade Winehouse on the 14 September 1983 in Southgate, London. Her grandmother was a singer and her brother a guitarist. There was some Russian ancestry in the family history which had some influence on Amy's interest in Jazz.
Her grandmother encouraged Amy to go to vocal school which she attended for about four years.
She began playing guitar at thirteen and soon after, started writing her own music. As she got older, she began singing with local bands and groups. She gained the experience necessary during this time... you could say she had 'served her apprenticeship'.
In 2002 Amy was signed up by Simon Fuller and his management company. During this time she was used as a key vocalist, and was later signed up with EMI where she recorded a number of songs.
Amy loved the 1960's female groups and decided to emulate their look. She tried the beehive hairstyle and the Cleopatra makeup. She tried many different and recognizable looks from many different eras with great success.
Her debut album 'Frank' was released in 2003 in which Amy co-wrote many of the songs. The album went on to receive platinum status and thus began her international career.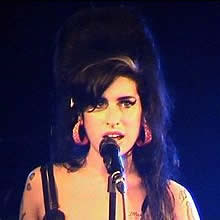 Love is a Losing Game was written by Amy for her album Back To Black in 2006. It was to be her final single before her premature death. The album was released in 2007 and went on to sell over 1.5 million copies in the UK. The album had many singles that became hits in both the US and the UK. During this time, she performed with other artists releasing a number of successful singles. The song reached number 46 on the UK Singles Charts. It went to No. 1 on the Album Charts and entered at No. 7 on the US Billboardtop 200. The song was extremely successful right across Europe. After her death the album re-entered the US charts with continued success.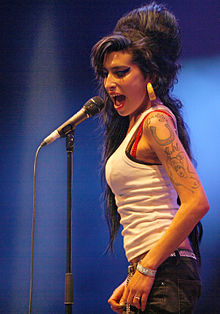 Amy won many awards including Record of the Year, Best Female Pop Vocalist, Song of the Year, and Best Pop Vocal Album to name a few. She toured the world with her live concerts, performed at charity shows, sang at jazz festivals, did radio shows and appeared on many T.V interviews.
On 23 July, 2011 Amy was found dead in her home in Camden, London. Her blood alcohol content was 5 times the legal limit... she died from alcohol poisoning at the very young age of 27.
Amy will always be remembered for her powerful voice and unique style. She found herself right at home singing Jazz, Soul, Rhythm & Blues, Jazz Pop… she sang them beautifully in a style that only Amy could. She had massive and widespread appeal, and will always be remembered as one of the 'Greats'.
In many ways Amy was a victim of her own success. She battled drug and alcohol addiction, as well as the emotional rollercoaster of her relationship woes. Excesses became part and parcel of daily life for Amy. It helped her cope with all the pressure and constant demands placed upon her. Eventually she succumbed to the notoriety, and paid the ultimate price with her life.
Fortunately her fans have a lot of fantastic music and videos to remind them of the outstanding and unique singer/performer she was. Thanks for the music Amy...
Body & Soul: Amy Winehouse & Tony Bennet