Hallelujah chords
by K D Lang
Hallelujah was written by Leonard Cohen who recorded the song in June, 1984 and released it in Dec, 1984.
K D Lang recorded a version of the song in 2004 on the album Hymns of the 49th Parallel, which consisted of songs by K D's favorite Canadian songwriters including Neil Young, Joni Mitchell, Jane Siberry, Leonard Cohen, Bruce Cockburn and Ron Sexsmith.
Music: Key of E Major in 6/8 time at 60 bpm (♩)
Chords: E, C#m, B, G#, A
Chart Legend

Numbered Circles: Fingers used to play chords O: Optional Note
Barre Line: One finger holds down multiple strings R: Root Note
Unmarked strings: Play open X: Don't play string B: Bass Note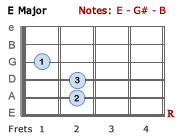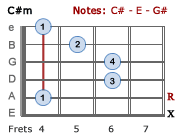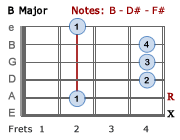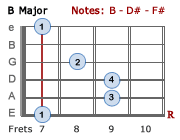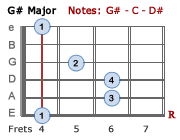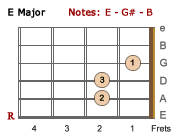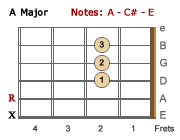 ASCII Chord Charts: number = fret, x = don't play, 0 = play open string, (B) Barre Chord
| Chord | Guitar | Piano | Chord | Guitar | Piano |
| --- | --- | --- | --- | --- | --- |
| E | 022100 | E-G#-B | G# | 46654 (B) | G#-C-D# |
| C#m | x46654 | C#-E-G# (B) | A | x02220 | A-C#-E |
| B | x24442 | B-D#-F# (B) | B | 799877 (B) | B-D#-F# |
Hallelujah
Song Key is highlighted - Transpose to any other key

           A          C#m          A           E     B     E    C#m    E    C#m


Intro:

  ‖     |  𝄎  |     |  𝄎  |     |  𝄎  |     |     |     |     |     |      ‖


     E                 C#m               E                    C#m
1. I heard there was a sec-ret chord     Dav-id played and it pleased the Lord
       A                 B               E         B
   But you don't real-ly care for mus-ic do you |     |
           E                    A          B            C#m             A
   Well it goes like this   The fourth the fifth    The min-or fall the maj-or lift
       B                 G#             C#m
   The baff-led king com-pos-ing Hal-le-lu-jah

                   A                      C#m


Chorus:

 Hal - le - lu - jah    Hal - le - lu - jah
                   A                      E    B   E     C#m    E    C#m   
        Hal - le - lu - jah    Hal - le - lu - u - jah |      |    |      |

             E                        C#m                 E               C#m
2. Well your faith was strong but you need-ed proof   You saw her bathing on the roof
       A               B                E            B   
   Her beau-ty and the moon-light o-ver-threw you |     |
            E               A        B        C#m                   A
   Well she tied you to her kit-chen chair    Broke your throne and cut your hair
       B                  G#          C#m
   And from your lips she drew Hal-le-lu-jah

                    A                       C#m


Chorus:

 (Hal - le - lu - jah)    Hal - le - lu - jah
                    A                      E    B   E     C#m    E    C#m 
         Hal - le - lu - jah    Hal - le - lu - u - jah |      |     |      | 

   E               C#m                  E                   C#m
3. Ba-by I've been here be-fore    I've seen this room I've walked this floor
     A              B             E           B 
   I used to live a-lone before I knew you |     |
         E                    A      B            C#m           A 
   But I saw your flag on the marble arch     Our love is not a vict'-ry march
          B               G#             C#m
   It's a cold and it's a bro-ken Hal-le-lu-jah

                   A                      C#m


Chorus:

 Hal - le - lu - jah    Hal - le - lu - jah
                   A                      E    B   E     C#m    E    C#m 
        Hal - le - lu - jah    Hal - le - lu - u - jah |      |     |      | 

              E          C#m         E          C#m 
        |           |           |          |            |              

   E                C#m               E              C#m 
4. May-be there's a God a-bove    But all I've ev-er learned from love
       A                 B             E           B 
   Was how to shoot some-bo-dy who out-drew you |     |
        E                  A       B             C#m               A
   It's not a cry that you hear at night    It's not some-one whos seen the light
          B               G#             C#m
   It's a cold and it's a bro-ken Hal-le-lu-jah

                   A                      C#m  


Chorus:

 Hal - le - lu - jah    Hal - le - lu - jah
                   A                      E    B   E     C#m   E    C#m 
        Hal - le - lu - jah    Hal - le - lu - u - jah |      |     |      | 

              B          G#        C#m        C#m     
        |           |          |          |          | 

                    A                  C#m


Chorus:

 (Hal - le - lu - jah)    Hal - le - lu - jah
                    A                       E        B
         Hal - le - lu - ja      Hal - le - lu - u - jah


           A   A     C#m        C#m               A            A     E     B


Chorus:

 Hal - | le | lu - jah |       | Hal - le - lu - jah |     |     |     |

                   E       C#m       E       C#m       E      C#m      E
        Hal - le - lu..|.........|.......|.........|.......|.......|.. jah |
---
Notes:
Beginners: If you use a capo as described below, the song becomes very easy to play.
Song Key: E Major ( 4 sharps - F# C# G# D#) - The original key by Leonard Cohen was C Major.
6/8 time: 6 eighth-note/quaver beats per bar... | 1 2 3 4 5 6 | or | 1& 2& 3& 4& 5& 6& |
If you are using a metronome or electronic timing device there are a couple of choices:

60 bpm (♩.) - Each beat will sound on every dotted quarter-note (= 3 eighth-notes)... it will look something like this:
1 2 3 4 5 6.
This is recommended with each beat sounding on the 1st and 4th beats of each bar.

180 bpm (♪) - Each beat will sound on every eighth-note... 1 2 3 4 5 6 - can be off-putting with the possibility of the metronome flying out the window at this pace, with each click sounding on every beat of each bar.
Wherever you see a bracketed Hallelujah on the song sheet, i.e., (Hal - le - lu - jah), K.D. is not singing but the words are implied along with the chords... keeps everything running smoothly.
Note that some of the verses used in K D Lang's version are not part of the original lyrics as many verses have been added since then. Apparently there are 15 verses to the song.
K D Lang & Leonard Cohen
K D Lang is a singer/songwriter, born in Canada in 1961. Some of her hit songs include:
Crying, recorded with Roy Orbison in 1989. Together they won the Grammy Award for Best Country Collaboration with Vocals.
Shadowland released in 1988 and named album of the year by The Canadian Country Music Association.
Full Moon Full Of Love released in 1989 was the single from her album, Absolute Torch and Twang. It charted in The USA and went to number 1 in Canada. It also won her an American Grammy Award for 'The Best Female Country Vocal Performance'.
Constant Craving was released in 1992 and won the award for 'Best Pop Vocal Performance'. This hit song came from the album Ingenue, where Miss Chatelaine was another hit song from the same album.
K D Lang collaborated with other musicians on various projects such as: So In Love for a Cole Porter Tribute Album; Surrender for the James Bond film 'Tomorrow Never Dies', and she wrote music for the soundtrack to Even Cowgirls Get The Blues.
... a special moment shared by K D Lang and Leonard Cohen at a live performance.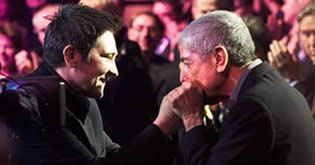 Drag was released in 1997, and 2004 saw the release of the album, Hymns Of The 49th Parallel which did very well in both Canada and Australia.
She has since released other albums and collaborated with other musicians, most notably Tony Bennett with What A Wonderful World. Together they toured and won a Grammy Award in 2004 for Best Traditional Pop Vocal Album.
The Leonard Cohen Files - Site dedicated to Leonard Cohen with loads of information, photos, tributes and lots lots more.