Music Theory Aids
learning music theory just got a little easier...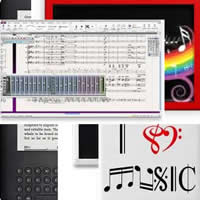 Aids to learning Music Theory are an excellent idea if you want to study in an interactive way which is fun and educational.
There are a number of music theory aids available on the market. They come in the form of software or hardware coupled with associated products including e-books etc.
They can often make learning 'fun', which is great for those who find studying a bit of a chore. Consider the following:
Apple iPhone and iPad
Apple have 2 very popular products on the market which cater very nicely for ebooks and other apps which you will find very useful for learning music theory... iPhone and iPad.
The advantage of the iPhone is that many people already have one, so there is no need to buy another product. The disadvantage of the iPhone for some, is the size of the screen... enter the iPad. Apple have a good range of book titles relating to music theory and music in general. Because Amazon have exclusive rights to certain titles, you can download the free Kindle app onto your iPad or iPhone and you're good to go... hope this helps
Music Theory Software
There are various music theory software packages available that cater for all levels of music theory, from beginner to pro. They can be fun and some of them are interactive, which is great for learning, especially for children.
We look at some of the more popular titles including Musition & Auralia by Rising Software, Practica Musica by Ars Nova, and the Music Ace series by Harmonic Vision including Music Ace, Music Ace 2, and Music Ace Deluxe... Learn More
e-Book reader
Kindle is Amazon's name for their eBook reader. Because it uses wireless connectivity, it enables users to download and read e-books, magazines, newspapers, blogs etc. It also enables users to shop for all these products. The size of this product is excellent for reading any type of material, and makes it easier to carry around... not too big and not too small.
There are some great music theory e-books and apps available with this hardware. These gadgets are great if you are always on the go. You can use them anywhere, anytime. If you are a youngster, you can utilize them while travelling to school and back, or anywhere for that matter.