Irish Music - chords and lyrics
Music from the heart
If you have ever had the pleasure of knowing or mixing with the Irish, you will learn how to enjoy everything life has to offer. No matter what the occasion, there is always a story or joke to be told, a jig to dance, music to play, or a song to sing.
We have a few categories available for you to enjoy, and if you like Irish Folk songs, you will have many hours of singing and playing pleasure with this selection - videos, chords & lyrics, chord charts, tips and free downloads.
Songs by Irish Artists including songs made popular by Irish & Celtic Artists:
✓ means the song is suitable for beginners
Celtic Nations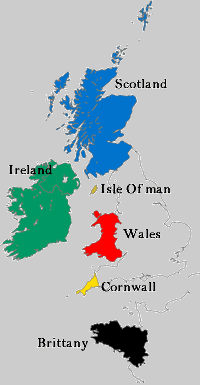 The six territories recognised as Celtic nations by the Celtic League are:
Ireland (Éire)
Scotland (Alba)
Wales (Cymru)
Cornwall (Kernow)
Brittany (Breizh)
Isle of Man (Mannin)
Each has a Celtic language that is either still spoken or was spoken into modern times.
Brittany is located in the north-west of France while the Isle of Man is a self-governing Crown dependency in the Irish Sea between Great Britain and Ireland.
Help Pages:
Song Charts: If you are finding the song charts on this site a little hard to follow, this page will give you a summary of all the things you are likely to find along with explanations and definitions... very helpful.
Writing Chords - learn how to write a chord, e.g., 320003 (G chord). These are used on some song pages as well as chord charts... handy to know.
Please Note: All the song charts on this site are my own interpretation of each song, in a format aimed at teaching guitarists and musicians in general. No attempt has been made to copy or reproduce the artist's or publisher's sheet music for the song, if it does exist. It is to be used for Informational and Educational Purposes Only. For a comprehensive representation of the songs, we recommend you buy the sheet music. If you like playing these songs, we encourage you to support the artists and buy their music.